Ultimarc 12-way Rotary Upgrade for Servostik & J-Stik
SKU
UM-12Way
Price $49.00
More Details
Reviews
Related Items:
Ultimarc 12-way Rotary Upgrade for Servostik & J-Stik
12-Way Rotary Joystick Upgrade for the Ultimarc J-Stik (Sanwa JLW-TM-8) and Ultimarc Servostik joysticks.
Requirements/Limitations:
Requires Ultimarc ServoStik, Ultimarc J-Stik, or Sanwa JLW-TM-8 with a 9mm shaft, like the ones we sell.
Can not be used with the wider 12mm shafts that Ultimarc uses for their Bat Top options, only 9mm shafts. (We only sell the 9mm shafts for all tops.)
Can not be used with the Ultimarc RGB Ball Top, only a regular top
Features:
Ikari Warriors style emulation
Rotary movement issues a keystroke or gamepad button press for each of 12 clicks
Character for clockwise/anticlockwise can be changed to any keyboard key or button
Length of the "pulse" of the key can be adjusted
Settings retained by the interface
4-way/8-way directional performance of original joystick is unaffected
Kit Contents:
USB board with switch and cable
Coupling
Replacement handle (Visible handle length: 48mm BALL TOP)
Spacer washers
Switch mounting plate
Pillar
Cable ties
Allen key
M5-0.8 Threaded Insert (Provided by us, not from Ultimarc)
Installation of Kit to Joystick
:
Remove circlip from original handle, lower end. NOTE: Spring loaded parts take care! Install replacement handle, fit TWO spacer washers under circlip
Fit switch/PCB to mounting plate using nut. Note this can be fitted either way round relative to the plate, select the best way for your physical panel layout.
Fit collar onto handle and switch. Tighten screws using supplied allen key.
Detailed instructions with photos: 12wayrotary.pdf
Installation of Joystick to Control Panel
:
Option 1: Male mounting into M5-0.8 Threaded Insert (Provided. Not the same size as our hidden hardware kits)
Option 2: Female mounting using an extra 5mm screw (not supplied)
Option 3: Female mounting using one of the joystick-panel mounting screws (not supplied)
Using our Threaded Insert
:
Install the joystick under your control panel with our Hidden Hardware Joystick Mounting Kit - 1/2" Screws For Metal Plates, but only use 3 of the 10-24 inserts from the kit.
Then use the M5-0.8 Threaded Insert that we include with the Rotary Upgrade for one of the screws. (Shown in the photo without a control panel of course.)
This allows you to screw the male end of the pillar into the threaded insert to easily install the Rotary kit.
Ultimarc 12-way Rotary Upgrade for Servostik & J-Stik Reviews
No reviews for this product.
Ultimarc 12-way Rotary Upgrade for Servostik & J-Stik Related Items: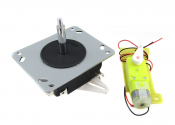 Ultimarc ServoStik Joystick
Motor-driven restrictor plate switches between 4 and 8 way in less than a second. Requires the Ultimarc Servo Control Board. Use any Sanwa Ball Top or Bat Top!
Price $39.95