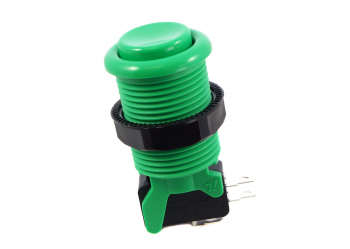 Industrias Lorenzo Concave Pushbutton - Green
| Read all reviews
SKU
IL-PB-GREEN
Price $2.15
More Details
Reviews
Related Items:
Industrias Lorenzo Concave Pushbutton - Green
Original Industrias Lorenzo Arcade Pushbutton
Fits wood or metal control panels
Longer design allows easier use with 3/4" wood control panels w/Lexan
Push button mounts in 1-1/8" hole
Concave Plunger Design
Optional Microswitches Available: Zippy 50g, Cherry 75g (Shown), Rollie Leaf Switch
Industrias Lorenzo Concave Pushbutton - Green Reviews
Read all reviews
Featured positive reviews:
Scarce commodity
07/05/2019
I checked several websites for these particular green convex buttons before finally landing here. Seems the regular green color is a scarce commodity. I highly recommend purchasing these. They look great and feel great. I myself used them in my Marvel Vs Capcom cabinet which came in Red, Green, Blue (RGB) setup.
Industrias Lorenzo Concave Pushbutton - Green Related Items: