Zippy 20g .187" Microswitch
SKU
Zippy-20
$0.85
$0.75 On Sale!
You Save
More Details
Reviews
Related Items:
Zippy 20g .187" Microswitch
Manufactured with a light 20g operating force and 0.187" blade connectors for easy connections. Buttons using this switch will be easier to press than the ones with our 50g Zippy or 75g Cherry switches.
Specs:
Zippy Part: VM-P1B-00D0-Z
Operating Force: 20 grams
Rating: 0.1A 125/250VAC
Mechanical Service Life: Min. 10,000,000 operations
Zippy 20g .187" Microswitch Reviews
No reviews for this product.
Zippy 20g .187" Microswitch Related Items: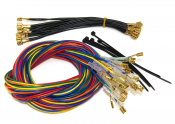 2 Player Wiring Kit *Improved!*
2 Player Wiring Kit *Improved!*
9
Average rating:

2 player arcade wiring kit for I-PAC
Price $13.95