Rollie Leaf Switch
Rollie Leaf Switch
4
Average rating:

| Read all reviews
SKU
Rollie-Leaf
Starting Price $2.95
More Details
Reviews
Related Items:
Rollie Leaf Switch
Classic arcade games and even some newer pinball games used leaf switches for the buttons. Get that same classic feel with a new pushbutton that normally uses a microswitch by installing this leaf switch! Compatible with all the Suzo Happ and Industrias Lorenzo buttons that we sell. Uses the standard 0.187" blade connectors for easy connections.

Note: NOT compatible with LED pushbuttons, only works with Suzo Happ and Industrias Lorenzo.
Rollie Leaf Switch Reviews
Read all reviews
Featured positive reviews:
Rollie Leaf Switch

Leaf switch for Virtual Pin
08/17/2018
Bought 2 Rollie Leaf Switches for a Virtual Pinball table. Easily mounts in place of the micro switch to convert a standard arcade button to a leaf switch.

Has the same feel as a pinball leaf switch. Much better than the "click" feel of a micro switch.

Great build quality and would definitely buy again.

Rollie Leaf Switch

Worth Every Penny
12/27/2019
If you don't want your wife complaining about annoying clicking sounds an these are a must.
Feels like the old school buttons that you were happy to spend your allowance on as a kid.
Rollie Leaf Switch

Just awesome
12/26/2018
What should i say they work perfect and sound like real leaf switches
Rollie Leaf Switch Related Items: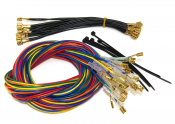 2 Player Wiring Kit *Improved!*
2 Player Wiring Kit *Improved!*
8
Average rating:

2 player arcade wiring kit for I-PAC
Price $13.95