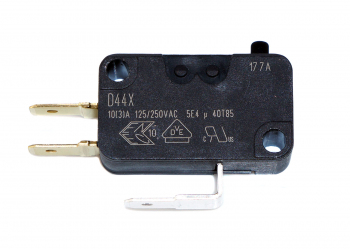 Cherry 75g .187" D44X Microswitch
SKU
Cherry-75
$1.75
$1.40 On Sale!
You Save
More Details
Reviews
Related Items:
Cherry 75g .187" D44X Microswitch
This is the same Cherry (now named ZF Electronics) micro switch that's been used in the arcade industry for many years. Originally used by Suzo Happ before they switched to the eSwitch brand, this has the classic 75g operating force found on older arcade games, and has the standard 0.187" blade connectors for easy connections.
Specs:
Cherry / ZF Electronics Part: D449-R1AA-CF
Operating Force: 75 grams
Rating: 10A 125/250VAC
Mechanical Service Life: Min. 10,000,000 operations
Cherry 75g .187" D44X Microswitch Reviews
No reviews for this product.
Cherry 75g .187" D44X Microswitch Related Items: