Ultimarc PacLED64 LED Controller Board
| Read all reviews
SKU
PACLED64
Starting Price $58.95
More Details
Reviews
Related Items:
Ultimarc PacLED64 LED Controller Board
Working on a MAME of Virtual Pinball machine and need to control individual button LEDs? The PacLED64 does that! With support for 64 single LED's or 21 RGB LED's this controller has full dimming, flash storage, and can be controlled by third party programs such as LED Blinky and RGB Commander.
Features:
64 LED channels with 256 brightness levels for full RGB color mixing
Can be set to flash any or all LEDs at one of 3 rates, without PC control.
Can be used with single-color or RGB LEDs (RGB use 3 channels)
Constant current negates the need for resistors for each LED
Can be used with LEDs with inbuilt resistors if required
128-command flash storage for "attract-mode" sequences which run immediately on power-up with no PC present
Supports single-command fades with preset speed on-board. Multiple fades can overlap
Comes with power cable for plugging into a PC disk drive power connector, and USB cable
User-assigned IDs allow multiple boards to be connected
Extensive software support including test application, Software Development kit for adding support to your own programs, and LedBlinky third-party software
Contains:
PacLED64 Board.
USB Cable
5v Power cable for connection to PC Power Supply.
4 24-way empty connector housing to plug into the board.
Optional Addons:
PacLED64 Configuration Utility
Each LED must have its negative connection (cathode) connected to one of the numbered pins 1-64.
Each LED must also have its positive (anode) connection connected to one of the supply pins marked "+". It does not matter which of the "+" pins you use as they are all connected together on the board.
You can daisy-chain multiple LED + connections and connect to one + pin.
Note: Industrias Lorenzo RGB Pushbuttons (aka Ultimarc's Classic RGB) will plug in directly.
The pins labeled A1-A6, PR, NX and GND are for future customized OEM versions of the board and are not used in the standard version
The picture below shows a schematic representation of three LEDs connected to channels 31-33: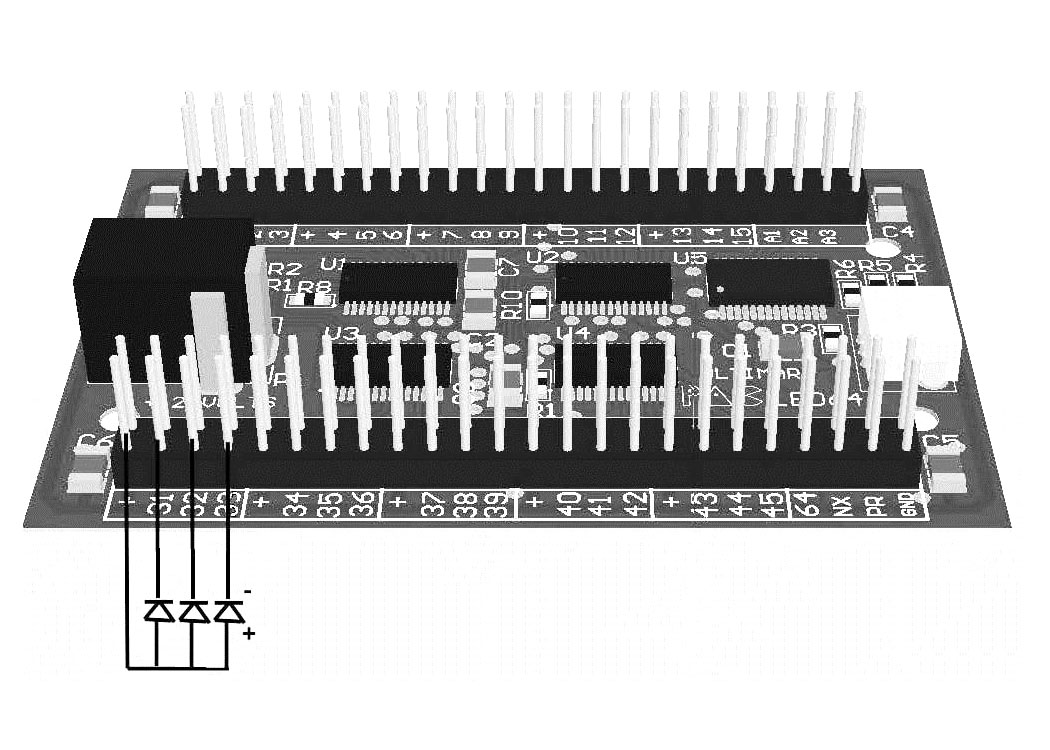 Ultimarc PacLED64 LED Controller Board Reviews
Read all reviews
Featured positive reviews:
Great Stuff!!!
04/05/2021
I'm always happy with my orders from t-molding.com. I ordered three items and they came extremely quick and the t-molding is alway in good condition. I ordered from three other companies on the same day and t-molding supplied their order faster than any of the others. Speed and quality. No complaints.
Finishing touches
08/30/2018
Really cool board, you can set up all kinds of interesting patterns and effects. Highly recommended if you want your control panel to really pop.
Home Arcade
03/07/2022
Great Company to work with! Pricing is great and communication after the sale is fast and friendly. Will do business with them again...
Ultimarc PacLED64 LED Controller Board Related Items: