Arcade Marquee LED Light Strip
| Read all reviews
SKU
LED-Marquee-Strip
Price $6.95
More Details
Reviews
Related Items:
Arcade Marquee LED Light Strip
This 20" White LED strip has a cloudy cover to make a clear even light for lighting up your arcade marquee. Its an excellent replacement for a fluorescent light, or for use when building a new cabinet or marquee display box.
To create the most natural display of the marquees, these are 6000-6500 Kelvin temperature lights, which is a "Daylight White". Other LED strips may be 3000-3500K "Warm White" which will have an amber hue, or 7000-7500K "Cool White" which will have a blueish tint.
Voltage: 12v DC
Power Draw: 7 watts +/- 5%
36 of 5730 LEDs
20" Long x 1/2" Wide (20-3/4" long with the mounting clips)
Screw holes in the end caps for easy installation
Bare wires on both ends so you can daisy-chain additional strips if required
50,000 hours life span
Can be dissembled and cut every 1-5/8" to shorten (cut on the marks every 3 LEDs, cut the frame and cover as needed, then reassemble)
NOTE:
This is *not* a drop-in replacement for a fluorescent light. Those use 110v AC which will instantly short out this LED strip if you connect it to the same wires. As noted above, this strip uses 12v DC. You need to pull 12v DC from your arcade power supply or another source, such as using our kit which includes a power supply:
Arcade Marquee LED Light Strip Kit
NOTE:
If you are not chaining multiple strips together you do not need the extra wires that come out the other end. You can cut them off, cover them with electrical tape, or cover them with wire nuts. Just be sure the wires do not touch each other or that will short out the LED strip.
Accessories:
Arcade Marquee LED Light Strip Reviews
Read all reviews
Featured positive reviews:
Nice little light
10/06/2020
This works well with the marquee and since my arcade was on the smaller side I needed to cut it. The leds cut fairly easy with kitchen shears and the housing cut pretty decent with a jigsaw using a metal bit. I would highly recommend this as a simple way to light a marquee.
The right products for your project
05/11/2020
Excellent Marquee light. Hooks right into your existing 12v supply for led buttons, etc
They have everything you need for your home arcade project. Get the right parts for a great price with fast shipping. Thanks for helping me complete my latest MAME cabinet.
Excellent Customer Sevice!
08/24/2020
Above and beyond customer support to help me figure out what I needed. He could have sold me more than required but was very honest and straight forward. Highly recomended!!
Arcade Marquee LED Light Strip Related Items: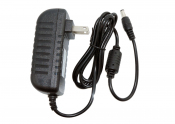 12v 3a Power Supply
12 volt 3 amp ac/dc adapter power supply for LED buttons or Audio Amplifier
Price $5.99