Arcade Marquee LED Light Strip
| Read all reviews
SKU
LED-Marquee-Strip
Price $6.95
More Details
Reviews
Related Items:
Arcade Marquee LED Light Strip
This 20" White LED strip has a cloudy cover to make a clear even light for lighting up your arcade marquee. Its an excellent replacement for a fluorescent light, or for use when building a new cabinet or marquee display box.
To create the most natural display of the marquees, these are 6000-6500 Kelvin temperature lights, which is a "Daylight White". Other LED strips may be 3000-3500K "Warm White" which will have an amber hue, or 7000-7500K "Cool White" which will have a blueish tint.
Voltage: 12v DC
Power Draw: 7 watts +/- 5%
36 of 5730 LEDs
20" Long x 1/2" Wide (20-3/4" long with the mounting clips)
Screw holes in the end caps for easy installation
Bare wires on both ends so you can daisy-chain additional strips if required
50,000 hours life span
Can be dissembled and cut every 1-5/8" to shorten (cut on the marks every 3 LEDs, cut the frame and cover as needed, then reassemble)
Accessories:
Arcade Marquee LED Light Strip Reviews
Read all reviews
Featured positive reviews:
Nice little light
10/06/2020
This works well with the marquee and since my arcade was on the smaller side I needed to cut it. The leds cut fairly easy with kitchen shears and the housing cut pretty decent with a jigsaw using a metal bit. I would highly recommend this as a simple way to light a marquee.
The right products for your project
05/11/2020
Excellent Marquee light. Hooks right into your existing 12v supply for led buttons, etc
They have everything you need for your home arcade project. Get the right parts for a great price with fast shipping. Thanks for helping me complete my latest MAME cabinet.
Excellent Customer Sevice!
08/24/2020
Above and beyond customer support to help me figure out what I needed. He could have sold me more than required but was very honest and straight forward. Highly recomended!!
Arcade Marquee LED Light Strip Related Items: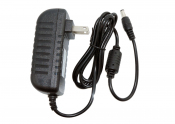 12v 3a Power Supply
12 volt 3 amp ac/dc adapter power supply for LED buttons or Audio Amplifier
Price $5.99