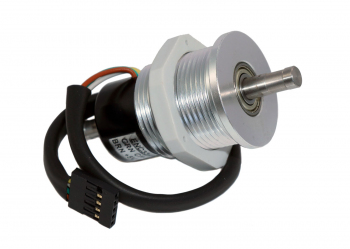 More Details
Reviews
Related Items:
Ultimarc SpinTrak Spinner
Ultimarc SpinTrak Rotary Controller
The ultimate arcade spinner which easily connects to a computer running Windows for use with MAME or any game that uses a spinner. Automatically detected as a mouse, the SpinTrak connects to the Spinner connector on an I-PAC2 or directly to a USB port with the optional SpinTrak USB Adapter
Uses Tornado-style Spinner Tops, the best available anywhere.
Can be used as a lightweight Super High Resolution Low-Inertia Trackwheel control as used in "Arkanoid"
Can also be used as a spinner with the addition of one of two sizes of fly-weight to provide inertia giving long spin-times of up to 20 seconds.
Ultra-high resolution, unbeatable 1200 pulses per revolution.
Dual sealed ball-bearing races give the ultimate in smooth control.
One-Piece bearing housing/body CNC machined from a solid alloy billet
Shaft Diameter: 6mm
Required: Connect to an Ultimarc I-PAC 2, or the Ultimarc SpinTrak USB Adapter for use with a computer via USB.
Contains:
1 SpinTrak Spinner
1 Allen Wrench
Pinout:
Brown: +5v DC
Green: X2
White: Ground
Yellow: X1
Docs & Tips:
Ultimarc SpinTrak Spinner Reviews
Read all reviews
Featured positive reviews:
Great product
08/19/2019
I bought this spinner for a small project I was working on. Made a 2 player control panel with a small 2 inch trackball and the ultimarc spintrak spinner. I use the spinner for the usual games. Arkanoid, and many others but I especially use it for super sprint racing game with the 6 and a quarter inch wheel. Love this product.
Works as expected
06/23/2019
Definitely a must buy if you plan on playing spinner type games.

Super accurate and sturdy.

Well worth the price.
Ultimarc Spinner + Knob
11/10/2018
Excellent quality. Overall excellent product. This was exactly what I needed for my arcade cabinet mod project. Thank you!
Ultimarc SpinTrak Spinner Related Items: