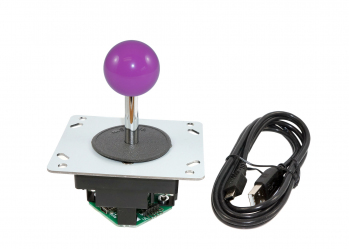 Ultimarc UltraStik 360 Joystick with Violet Sanwa Ball Top
SKU
UltraStik-Ball-VI
Price $59.95
Ultimarc UltraStik 360 Joystick with Violet Sanwa Ball Top
The UltraStik is is a true analog arcade joystick using advanced sensing technology which uses no contacts nor switches, allowing a perfectly smooth movement in all directions. It can be used in many modes, ranging from simply replacing a micro-switch 4 or 8 way stick to a full analog flight stick with user-defined analog/digital mapping.
Ultimarc UltraStik 360 Joystick with Violet Sanwa Ball Top Reviews
No reviews for this product.