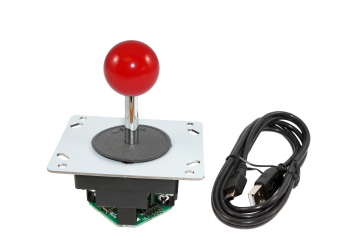 Ultimarc UltraStik 360 Joystick with Red Sanwa Ball Top
| Read all reviews
SKU
UltraStik-Ball-Red
Price $59.00
More Details
Reviews
Related Items:
Ultimarc UltraStik 360 Joystick with Red Sanwa Ball Top
The UltraStik is is a true analog arcade joystick using advanced sensing technology which uses no contacts nor switches, allowing a perfectly smooth movement in all directions. It can be used in many modes, ranging from simply replacing a micro-switch 4 or 8 way stick to a full analog flight stick with user-defined analog/digital mapping.
Ultimarc UltraStik 360 Joystick with Red Sanwa Ball Top Reviews
Read all reviews
Featured positive reviews:
Works great
10/27/2021
This is great for PC use! Has a pretty strong return to center feel. Keep in mind, unless you are some tech wizard, you will only get true analog movement from this stick if you use its USB function. Hooking the basic molex onto this joystick's pinouts for jamma use will only give a yes/no signal which means 8-way only.
At 60 bucks each, that makes it way too pricey for basic arcade use unless you wanted to find a nice substitute for a Konami 4-player cabinet like simpsons or tmnt. Buy this for PC use to utilize the usb plugin.
Very versatile
01/27/2021
I'm glad to have found your site carry's these since UK shipping was the deal breaker for me.
Very versatile and lots of configurations, already eyeing a second one.
Ultimarc UltraStik 360 Joystick with Red Sanwa Ball Top Related Items: