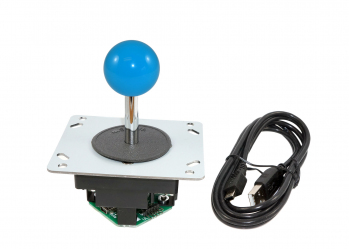 Ultimarc UltraStik 360 Joystick with Light Blue Sanwa Ball Top
| Read all reviews
SKU
UltraStik-Ball-B
Price $59.95
Ultimarc UltraStik 360 Joystick with Light Blue Sanwa Ball Top
The UltraStik is is a true analog arcade joystick using advanced sensing technology which uses no contacts nor switches, allowing a perfectly smooth movement in all directions. It can be used in many modes, ranging from simply replacing a micro-switch 4 or 8 way stick to a full analog flight stick with user-defined analog/digital mapping.
Ultimarc UltraStik 360 Joystick with Light Blue Sanwa Ball Top Reviews
Read all reviews
Featured positive reviews:
U360
06/12/2020
For MAME the Ultrastik is the ultimate. No need for dedicated specialized controls for specific games as the U360 can do it all and using LEDBlinky the proper configuration can be automatically loaded. I set new high scores on favorite games on the first day I installed the U360 on my cabinet. Wish I had switched years ago!