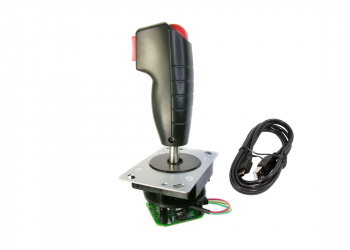 Ultimarc UltraStik 360 Joystick with Flight Stick Top
| Read all reviews
SKU
UltraStik-Flight-Stick
Price $79.00
Ultimarc UltraStik 360 Joystick with Flight Stick Top
The UltraStik is is a true analog arcade joystick using advanced sensing technology which uses no contacts nor switches, allowing a perfectly smooth movement in all directions. It can be used in many modes, ranging from simply replacing a micro-switch 4 or 8 way stick to a full analog flight stick with user-defined analog/digital mapping.
360 Flight Stick Installation Note:
To install this version through the panel and the dust washer, the handle needs to be dismantled. This is done by first removing 4 screws from one side, then one from the other side. The switches with wiring need to be routed through the panel and then the handle re-assembled.
Ultimarc UltraStik 360 Joystick with Flight Stick Top Reviews
Read all reviews
Featured positive reviews:
Amazing service an quick delivery
04/16/2020
I contacted Rich at T-Molding as I needed this Ultrastik Flightstick which was not available at Ultimarc at the time. T-Molding had serveral in stock and I got it within a few days. Also the whole experience and speedy replies where execellent. 5 out of 5 stars !

Note: To mount the stick, de-soldering of the buttons might be needed. Otherwise they won't go thru the dust-ring. But this is very easy to do.