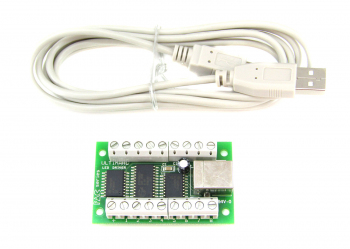 Ultimarc PacDrive USB Driver Board
SKU
PacDrive
Starting Price $28.95
Ultimarc PacDrive USB Driver Board
The PacDrive is a low-cost driver board for devices such as LEDs, solenoids, lamps, etc.
Board is ID #1
- We can get other ID values but only stock #1 at this time
Will drive up to 16 standard LEDs with no additional power.
Up to 4 boards can be used. Contact us for different IDs.
500mA per channel
500mA total current without external power supply. Higher current draw will require additional power.
5 volt outputs without external power supply.
Up to 48 volt outputs with external power supply.
Support as a LED driver for several MAME front-ends soon.
Linux Support
Connection & Software Downloads
:
https://www.ultimarc.com/output/led-and-output-controllers/pac-drive/
Ultimarc PacDrive USB Driver Board Reviews
No reviews for this product.