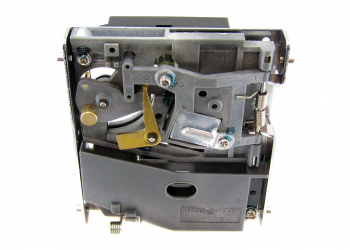 Suzo Happ $0.25 USA and 0.984" Token Coin Mech
| Read all reviews
SKU
SH-CM-Combo
Price $22.95
More Details
Reviews
Related Items:
Suzo Happ $0.25 USA and 0.984" Token Coin Mech
This coin mech for arcade coin doors supports both $0.25 Quarters and 0.984" Tokens. If your arcade game collection only supports quarters you can use this mech to start using tokens!
Mech utilizes metal base plate, metal cradles, plastic gate and coin return chute.
Each part made with great precision to produce a mech that is highly able to separate good coins from counterfeit coins.
Material used for each part is carefully chosen to give optimum performance and durability.
High strength rare earth Neodymium magnet used to enhance ability to reject false coins while accepting good ones.
Each mech is equipped with an anti-stringing device.
Fully tested and inspected.
Suzo Happ Part #: 42-3070-100
Suzo Happ $0.25 USA and 0.984" Token Coin Mech Reviews
Read all reviews
Featured positive reviews:
Works well, may need adjustment for tokens.
10/03/2022
I bought about 10 of these. Of the 10, 5 needed a small adjustment to allow for token to pass through. I measured my tokens to make sure they were the right size and they were exactly right, so the fault lied with the mechs' adjustment. To adjust, the adjustment screw had to be broken free of the glue that had been applied to lock the screw down, which was frustrating, but in the end successful.

Beyond that the mechs fit perfectly in a Defender, Dynamo, old Gottlieb pinball and two different types of Midway coin doors.

I'd recommend them, but out of the box they weren't perfect.
Love these mechs
11/19/2021
Fast accurate service
Suzo Happ $0.25 USA and 0.984" Token Coin Mech Related Items: