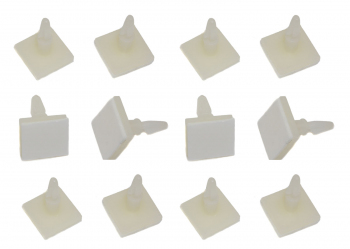 Stick On PCB Feet - 12 Pack
Stick on PCB feet for mounting an I-PAC or A-PAC board to metal or plastic control panels. Also perfect for 60-in-1 boards or any other PCB boards.
Pack of 12 Stick on PCB Feet
Stick On PCB Feet - 12 Pack Reviews
Read all reviews
Featured positive reviews:
Have been looking for these
11/02/2021
I have tried to find these exact motherboard PCB feet and found them at T-molding. This place is a goldmine of true OEM parts and pieces. On a scale of 1 to 10 this place is a solid 12. All parts came wrapped and protected. Great job guys.
The get the job done
12/17/2019
I've used these before for similar projects. T-Molding just had a great price, so its was a "no brainer". Great for holding PCB boards in place without drilling. Just be sure to clean the area you are going to stick them to