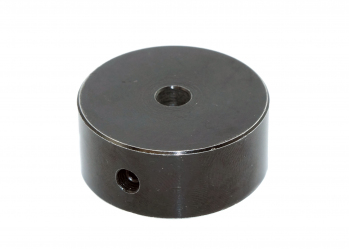 Ultimarc SpinTrak Small Fly-Weight
| Read all reviews
SKU
SpinTrak-FlyWeight-SM
Price $11.00
Ultimarc SpinTrak Small Fly-Weight
Add a fly-weight to your SpinTrak Spinner to provide inertia giving longer spin-times.

This flywheel is designed with the mass concentrated at the larger radius to improve the inertia.

Weight: 3.7oz / 105g
Dimensions: 35mm x 15mm

NOTE: A hex/allen wrench is needed to tighten the set screw on the flyweight but is not included. The wrench that's included with a SpinTrak Spinner will fit.
Ultimarc SpinTrak Small Fly-Weight Reviews
Read all reviews
Featured positive reviews:
A must have add-on
01/24/2020
Thought I didn't need one of these for my spinner but it makes for far better feel and much more fine control to have one.
Top quality like always from those guys and fast shipping!
Great
12/28/2022
I really like how this feels. I have not tried the larger one.