Arcade Renovations Slug Acceptor
| Read all reviews
SKU
AR-CM-Slug
Starting Price $9.00
More Details
Reviews
Related Items:
Arcade Renovations Slug Acceptor
2/4/2022 - Version 2! An alignment issue for larger tokens has now been resolved.
Easily and inexpensively convert your quarter games to tokens, or to any other coin, with this 3d printed coin "mech". Not truly a "mech" as it has no moving parts, but it is a drop in replacement for regular arcade or pinball coin mechs with the standard 4-pin mounting method, or you can trim off 2 pins for mounting in coin doors that use a 2-pin mount.
Turn off free-play, install these, and grab a
50-pack of Brass Arcade Tokens
to recreate the arcade feel with your games!
2 piece, snap together design (pre-assembled)
Printed with PETG filament for high strength, flexibility, and resistance to warping
Made in Connecticut, USA
Home use only of course, as it does no validation of the coin like a regular coin mech
Note: Since these are 3D printed and not injection molded there may be small imperfections in the plastic.
Free Domestic Shipping
: Orders of any size to the United States (excluding HI/AK) will have free shipping available if the only item in the shopping cart is this product. The shipping method we use will be determined by the size of the order, with small orders going First Class Mail, then Priority Mail or UPS Ground for larger orders. Be sure to select free shipping if you want it as all other shipping options will still be available.
Arcade Renovations Slug Acceptor Reviews
Read all reviews
Featured positive reviews:
Often needs modd8ng
10/17/2020
In all i bought 10 of these for five machines. I had to mod 6 of them to make them work. I have 2 midway cabs with coin mechs that attach flat to the door. For one i had to enlarge the opening with a Dremel. The other worked fine. They worked fine in an old EM pinball. Dynamo cab required cutting off tabs (no big deal) but also drilling holes to put screws in. Not easy to get perfect. Same with a Defender cab. Long story short, I got them to work, but not without worry. In my opinion I would give them a 5 star review if it was mentioned n the description some of the modification requirements for common cabinets other than just having to cut off tabs. It was not a drop in and required a Dremel, a bench vise, Calipers and some weird sized drill bits to get just right.
Our response
Chris - We have emailed you for details and photos as modifications should not be needed if a standard coin mech (ex: Suzo Happ 42-3079-100) also fits.
Modification needed
10/26/2020
As noted in the other review, this had to be modified with a Dremel tool to allow the coin to fall out the bottom on an original midway Pac-Man machine. Not a big deal but should be in the description.
Great token acceptor
10/09/2022
Bought these for a few cabinets in my little home arcade so that they can use tokens. Works great!!
Arcade Renovations Slug Acceptor Related Items: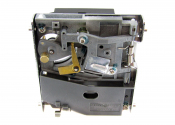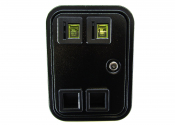 Suzo Happ Double Entry Arcade Coin Door with Coin Mechs
Metal coin door with metal frame and dual coin return button/tray with coin mechs and 12v bulbs installed. Select either $0.25 USD coin mechs or upgrade to COMBO $0.25/0.984" Token Mechs! Lock and key included.
Price $76.95