Arcade Renovations Slug Acceptor
SKU
AR-CM-Slug
Starting Price $9.00
More Details
Reviews
Related Items:
Arcade Renovations Slug Acceptor
7/27/2020 - Now Available! Our stock may be low while we ramp up production. We plan to keep 50-100 in stock at all times.
Easily and inexpensively convert your quarter games to tokens, or to any other coin, with this 3d printed coin "mech". Not truly a "mech" as it has no moving parts, but it is a drop in replacement for regular arcade or pinball coin mechs with the standard 4-pin mounting method, or you can trim off 2 pins for mounting in coin doors that use a 2-pin mount.
Turn off free-play, install these, and grab a
50-pack of Brass Arcade Tokens
to recreate the arcade feel with your games!
2 piece, snap together design (pre-assembled)
Printed with PETG filament for high strength, flexibility, and resistance to warping
Made in Connecticut, USA
Home use only of course, as it does no validation of the coin like a regular coin mech
Note: Since these are 3D printed and not injection molded there may be small imperfections in the plastic.
Free Domestic Shipping
: Orders of any size to the United States (excluding HI/AK) will have free shipping available if the only item in the shopping cart is this product. The shipping method we use will be determined by the size of the order, with small orders going First Class Mail, then Priority Mail or UPS Ground for larger orders. Be sure to select free shipping if you want it as all other shipping options will still be available.
Arcade Renovations Slug Acceptor Reviews
No reviews for this product.
Arcade Renovations Slug Acceptor Related Items: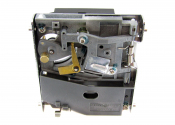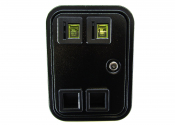 Suzo Happ Double Entry Arcade Coin Door with Coin Mechs
Metal coin door with metal frame and dual coin return button/tray with coin mechs and 12v bulbs installed. Select either $0.25 USD coin mechs or upgrade to COMBO $0.25/0.984" Token Mechs! Lock and key included.
Price $72.95