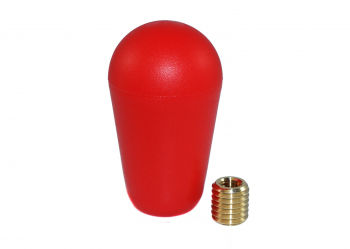 Sanwa Red Bat Top LB-30N-R
Sanwa LB-30N-R Red Battop for Sanwa joysticks. Includes an M10-1.5 to M6-1.0 thread adapter for the JLF joysticks and LS-32.
Sanwa Red Bat Top LB-30N-R Reviews
Read all reviews
Featured positive reviews:
These are great
04/17/2020
I was trying to play Street Fighter with a store bought 2 player controller but they had square restrictor plates making it impossible to do the special moves. I came to this website and after spending less than five dollars I was able to fix that problem by swapping them with octagonal restrictor plates and now the controls work great and the parts were easy to install. I also swapped out the Pac-Man style controller tops with the more modern slim bat tops for a better fighting game feel that I'm more used too. I'll definitely be back when I decide to upgrade some more.