Replicade Street Fighter II Arcade Game
SKU
RC-StreetFighter
Price $119.00
More Details
Reviews
Related Items:
Replicade Street Fighter II Arcade Game
The RepliCade Amusements line of mini arcade games is a collection of fully-playable arcade machines built in 1:6 scale.
These premium collectables are made from traditional wood and metal materials, and updated with todayís technology to run the original arcade ROMs.
Game Specifications:
Plays the original Street Fighter II: Champion Edition and Super Street Fighter II Turbo arcade games
Miniaturized fight stick control panel which includes bat-top microswitch joystick and microswitch action buttons
Arcade Operatorís menu featuring dip switch settings that let you set your skill level (Champion Edition only)
Includes additional USB Mini Fight Stick for two-player action. Works with USB-compatible modern console controllers, too.
Illuminated Mini Fight Stick rear storage compartment with display window
Wood cabinet construction
Illuminated marquee & cabinet accents
Amplified stereo audio with volume control
Diecast metal coin door with storage compartment
High resolution cabinet art reproduction
Non-volatile memory saves high scores
Built-in rechargeable battery for up to 2 hours of unplugged play
3.5" flat LCD color screen (horizontal orientation)
Limited edition
Officially licensed by Capcom
Additional Product Info:
Manufacturer: New Wave Toys
Manufacturer SKU: RA-CA-001
UPC : 860440001049
Product: 5.2" X 4.5" X 11.8" / 3.1lbs
Packaging: 14" x 7" x 7" / 3.5lbs
Replicade Street Fighter II Arcade Game Reviews
No reviews for this product.
Replicade Street Fighter II Arcade Game Related Items: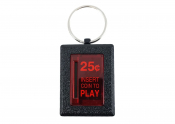 RepliCade Insert Coin Key Chain
RepliCade Insert Coin keychains are constructed from a traditional blend of diecast metal and plastic. Push the coin return button to activate LED illumination for 30 seconds.
Price $14.99