Replicade Asteroids Arcade Game (Sold Out)
| Read all reviews
SKU
RC-Asteroids
Price $139.99
More Details
Reviews
Related Items:
Replicade Asteroids Arcade Game (Sold Out)
*Limit 1 Per Customer* - Not available for coupons/sales - Multiple orders to the same customer/address will be canceled and refunded. This is in place to allow collectors to obtain them.
New Wave Toys is celebrating 40 years of Atariís legendary arcade classic Asteroids with their fully playable, 1/6th scale, arcade-accurate replicas! Based on the first Asteroids production run in 1979, our Asteroids x RepliCade plays the original arcade ROM and features our ultra-high-resolution screen optimized for enhanced vector graphics. Our cabinet also features the iconic Atari Owl Eyes diecast coin door, operator dip switches, and glow-in-the-dark anniversary edition packaging. Each of the 3,500 units are individually numbered and officially licensed by Atari.
Every detail in these amazing works of arcade art has been painstakingly reproduced, including the wood cabinet, illuminated marquee & cabinet accents, metal owl eyes coin door with stash box, to professionally reproduced cabinet art printed on high quality 3M vinyl overlays to the stunning 3D bezel.
Asteroids x ReplICade plays just like the arcade classic with 5 PlayScale action buttons & lighted Atari Volcano tall cone buttons. Featuring our ultra-high-resolution screen optimized for vector graphic reproduction. Customize your Asteroids experience with dip switches to set number of Starting Lives, Reset High Scores, and even add in game sound effects to Attract Mode with the NEW RepliCade Attract Mode menu option.
Game Specifications:
Replica 1979 Asteroids arcade machine in 1/6th scale (12 inches tall)
Limited Production 40th Anniversary Edition
High resolution screen optimized for vector enhancement
Atari Owl Eyes metal coin door with storage compartment
Plays the original Asteroids arcade game
Arcade Operatorís menu featuring dip switches and cabinet settings
High Score saving with non-volatile memory
Atari cone Volcano buttons
Professional reproduction cabinet art by Escape Pod
Authentic wood cabinet construction
Amplified mono audio with volume control
Illuminated marquee & cabinet accents
Built-in high capacity rechargeable battery
Glow in the dark packaging
Officially licensed by Atari
100 day New Wave factory warranty
Additional Product Info:
Manufacturer: New Wave Toys
Manufacturer SKU: RA-AT-003
UPC : 860440001087
Product: 5.37" X 4.25" X 12" / 2.5lbs
Packaging: 16" x 8" x 8" / 5.5lbs
Replicade Asteroids Arcade Game (Sold Out) Reviews
Read all reviews
Featured positive reviews:
Arcade machine
11/11/2021
Great company with a super fast response time on shipping responding to any question or just great products all together will definitely order from again in the future
Perfect
11/09/2021
Quite surprised they had this, especially at msrp! Got it fast and it was pretty much perfect. Runs and plays great, awesome addition to my collection.
Replicade Asteroids Arcade Game (Sold Out) Related Items: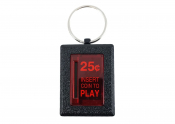 RepliCade Insert Coin Key Chain
RepliCade Insert Coin keychains are constructed from a traditional blend of diecast metal and plastic. Push the coin return button to activate LED illumination for 30 seconds.
Price $14.99