Replicade 1942 Arcade Game
SKU
RC-1942
Price $159.99
More Details
Reviews
Related Items:
Replicade 1942 Arcade Game
*Limit 1 Per Customer* - Not available for coupons/sales - Multiple orders to the same customer/address will be canceled and refunded. This is in place to allow collectors to obtain them.
New Wave™ is proud to present their next addition to the RepliCade family, 1942 x RepliCade! 1942 x RepliCade is a 1/6th scale replica of the ROMSTAR/Capcom 1942 Lowboy arcade machine. This classic Lowboy cabinet features two fully playable, classic arcade games designed by Yoshiki Okamoto: 1942 and 1943: The Battle of Midway. 1942 x RepliCade also features a Japanese-style diecast metal coin mechanism, customizable dipswitch and cabinet settings, HDTV connectivity and a bonus 1943 Mini Arcade Stick for simultaneous two-player gameplay! 1942 x RepliCade is officially licensed by Capcom.
Every detail in these amazing works of arcade art has been painstakingly reproduced, including the wood cabinet, illuminated marquee & cabinet accents, diecast metal Japanese-style coin slot, and professionally reproduced cabinet art printed on high quality 3M vinyl overlays.
1942 x RepliCade plays just like the arcade classic with PlayScale Control Panel featuring an arcade accurate Mini Joystick and action buttons. The cab also features premium LCD color screen in 3:4 vertical aspect ratio and our signature amplified multi-speaker audio reproduction with volume control for an authentic arcade experience. The Arcade Operator Dip Switch menu allows you to set number of Starting Lives, set Bonus Life score, and set Game Difficulty.
Game Specifications:
Replica 1942 ROMSTAR/Capcom Lowboy Arcade Machine in 1/6th Scale (11 inches tall)
Plays the original 1942 and 1943: The Battle of Midway arcade games
Arcade Operator's menu featuring customizable dip switches and cabinet settings
Miniaturized Control Panel featuring Mini Joystick and arcade buttons
Includes bonus 1943 Mini Arcade Stick for two-player gameplay. Also works with some USB-compatible modern console controllers
Plug and Play HDTV connectivity
Authentic wood cabinet construction
Illuminated Marquee
Diecast metal Japanese-style coin slot
Signature amplified multi-speaker audio reproduction with volume control
High-resolution cabinet art reproduction on quality 3M vinyl overlays
High score saving with non-volatile memory
Built-in high-capacity rechargeable battery
Premium LCD color screen 3:4 aspect ratio (vertical orientation)
Officially licensed by Capcom
Limited Edition
100-Day New Wave Factory Warranty
Additional Product Info:
Manufacturer: New Wave Toys
Manufacturer SKU: RA-CA-003
UPC : 850009712011
Product: 5.25" X 4.5" X 10.4" / 2.4lbs
Packaging: 16" x 8" x 8" / 5.5lbs
Replicade 1942 Arcade Game Reviews
No reviews for this product.
Replicade 1942 Arcade Game Related Items: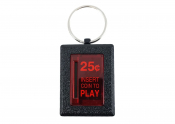 RepliCade Insert Coin Key Chain
RepliCade Insert Coin keychains are constructed from a traditional blend of diecast metal and plastic. Push the coin return button to activate LED illumination for 30 seconds.
Price $14.99