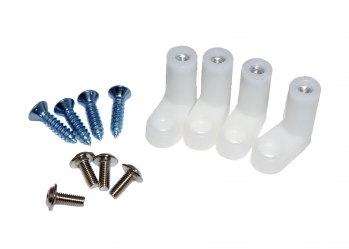 PCB Feet With Screws - 4 Pack
PCB feet for mounting an I-PAC or A-PAC board to the underside of your control panel. Also perfect for 60-in-1 boards or any other PCB boards.
Pack of 4 PCB Feet
Includes 4 screws to attach the feet to an I-PAC or multigame board
Includes 4 #6 5/8" self tapping screws to mount the feet on wood
PCB Feet With Screws - 4 Pack Reviews
Read all reviews
Featured positive reviews:
Customer Service was great
04/05/2019
I had ordered two of the 4 pack PCB pack one did not arrive with the package, but T-molding customer service corrected this right away. I will continue to buy from T-molding.com from now on.
Work well
08/30/2018
Do what they say, makes a nice neat install.