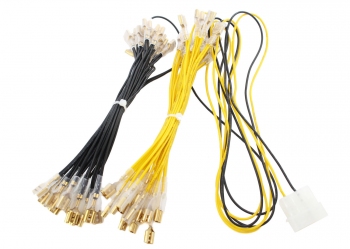 LED Button Wiring Harness (.250in/6.3mm)
| Read all reviews
SKU
LED-Harness
Price $8.95
LED Button Wiring Harness (.250in/6.3mm)
Easily hook up power to your LED pushbuttons with this wiring kit!
Molex connector for quick connection to a 12v PC power supply (or remove to wire manually)
2 wires with 30 daisy-chained insulated .250" (1/4", 6.3mm) connectors each
Connect up to 30 LED buttons
LED Button Wiring Harness (.250in/6.3mm) Reviews
Read all reviews
Featured positive reviews:
Great
02/21/2022
Good quality, does what it's supposed to. Also great service helping resolve an issue when the post service lost the initial package.
Big time saver
08/30/2018
Huge time saver, you can easily to this on your own, but this harness keeps everything nice and neat.