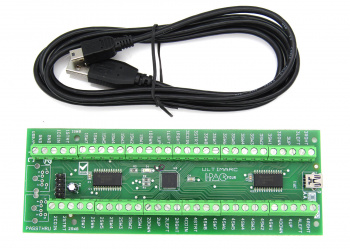 Ultimarc I-PAC 4 Controller with USB Cable
| Read all reviews
SKU
IPAC-4
Starting Price $64.95
More Details
Reviews
Related Items:
Ultimarc I-PAC 4 Controller with USB Cable
Working on a 4 Player MAME cabinet? The I-PAC 4 is the ideal interface for connecting arcade controllers such as pushbuttons and joysticks to your computer for 4 players at once!
The I-PAC4 has 64 inputs which are all programmable and are marked as 4 joysticks, 8 buttons each, plus coin1-4, start1-4 and MAME control keys. Any inputs can be assigned as a shift key to access an alternate code set.
I-PAC is the ONLY keyboard encoder where each input inputs has it's own dedicated microprocessor pin. No interaction or delays, vital for multi-button games such as fighting games.
I-PAC is much more than a keyboard encoder! Pins can be configured as mouse buttons or game controller buttons, plus power and volume control.
I-PAC is the ONLY keyboard encoder which emulates a USB keyboard and yet breaks through the USB simultaneously-pressed-switch limit of 6 switches (plus ctrl,alt,shift) which afflicts all USB keyboard devices.
I-PAC is the ONLY device to have a shift function which allows ANY input to be assigned to a shifted secondary keycode and the shift button can have it's own function too so no need for a dedicated extra control panel button.
I-PAC is the ONLY device to have a self-test LED which not only gives an instant visible check of your installation but also can indicate which connection (if any) is causing a problem.
I-PAC retains it's programming after power off. Not all keyboard encoders do this!
The I-Pac is made by Ultimarc, all support links below open to their website:
Ultimarc I-PAC 4 Controller with USB Cable Reviews
Read all reviews
Featured positive reviews:
The best home arcade solution. Still not perfect
08/17/2021
If you are building a home arcade or a homemade game control panel, this is the USB encoder you want. Don't think about it, just get it. It has a lot of inputs, fast response time, and a high quality build.

Wire it up as guided on the Ultimarc site and you're in business with MAME and almost every other emulator. The default setting, which has your buttons emulate a keyboard, is the best for most operation. As long as you stick within the bounds of that, you're set.

I had to knock off a star for the very confusing and explanation-lacking I-PAC software and documentation. The WinIPAC software is hugely confusing, with buttons, panels, and terms that have no explanation or guide in the software itself or on their site. Switching the encoder to controller mode in software is harder than it needs to be and while the silent CMD reprogramming using config files eases the issue a bit, WinIPAC would benefit greatly from a silent daemon that can reprogram depending on currently running game.
T-molding never disappoints, the best.
04/23/2018
This ipac4 is awesome, great response and lots of inputs and the t-molding vompany are fast in shipping, great packing, professional service, highly recommended for all your arcade building needs, the best, thank yiu so much.
Best on the market
08/30/2018
I've been using Ultimarc parts for over 10 years. Best quality out there. You can buy cheaper, but you can't buy better.
Ultimarc I-PAC 4 Controller with USB Cable Related Items: