More Details
Reviews
Related Items:
Industrias Lorenzo Cabinet Handle
Allows easy grip for moving cabinets as well as venting air from inside the cabinet.

IL Part #: C-36-05007
Industrias Lorenzo Cabinet Handle Reviews
Read all reviews
Featured positive reviews:
awsome service
07/06/2020
This is an awesome service! Thanks for making it very easy to place my next order and know exactly what I was getting. Will be doing business here again!
Excellent item
09/13/2018
Works as expected. precious arcade Cabinet is easy to move now. A cutting diagram sheet could be provide for 5 star product!
Industrias Lorenzo Cabinet Handle Related Items: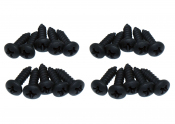 20 Black 1/2" Screws
Use for mounting speakers, speaker grills, amplifiers, or other items to your cabinet.
Price $2.50