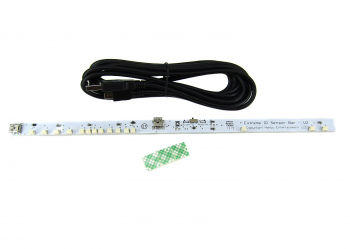 Extreme IR Bar for Arcade Light Guns
| Read all reviews
SKU
Extreme-IR-Bar
Price $36.00
Extreme IR Bar for Arcade Light Guns
This new Extreme IR Sensor Bar is the successor to the hugely popular Super IR Sensor Bar. You can use your guns closer to the screen than you could with the Super Bar and with this new bar you can use your light guns with screen sizes ranging from 10 inches all the way up to 100 inches!
There are no restrictions on where you need to stand - this has a 120 degree illumination angle, where the original Super IR Sensor bar and all other sensor bars on the market only have a ~20 to 40 degree illumination angle. This means you can use your guns from any angle with this Extreme Sensor bar. If you are short, tall, left or right of the screen, your guns will work! It literally blows the Super IR Sensor bar out of the water.
Two Sensor Bars in One
- There is a switch so that you can set your sensor bar as a Super IR sensor bar or Regular IR sensor bar:
Super: The Super setting works best with Screen Sizes 32 inches, up to 100 inches. The outer LEDs are turned on when the switch is set to Super. The illumination is higher with the Super setting which enables support for greater distances from the screen
Regular: The Regular setting works best with Screen Sizes 10 inches, up to 40 inches. When you set it to Regular, the inner LEDs are turned on. The illumination isnít as high with the Regular setting, because you will be using the guns closer to the screen. Also with the Regular setting, the LEDs are closer together. This allows you to use your guns closer to the screen then you otherwise could.
TIP:
If you have already setup the regular IR bar, you may need to turn down the IR Gain in the config tool for your guns. This bar is brighter and will not need as high of a gain.
A plastic case is planned by the manufacturer but is not yet available. There is no ETA at this time.
Details
Manual: Extreme-IR-Sensor-Bar-V2.pdf
Recommended for TVs or Projectors from 10 inches up to 100 inches in size.
Works up to 14 feet away from the screen.
Compatible with Arcade Guns and Ultimarc Aimtrak light guns.
Powered through USB cable.
Size: Length: 11.55", Height: 0.25", Depth: 0.5"
Also works as a Nintendo Wii/WiiU Sensor Bar.
Extreme IR Bar for Arcade Light Guns Reviews
Read all reviews
Featured positive reviews:
Must have upgrade to the Aimtrak
08/15/2022
I recently set up two Aimtrak guns to work with the Legends Ultimate Arcade. The Aimtrak guns are a work of art and their included IR Bar works well, but for the particularities of the Legends Ultimate case, the Extreme IR Bar works better, since, for one, the cable runs out on the side, rather than the back, making it easier to mount this bar where it should be, right above the display. I used a flat USB cable for mine and set it on a series of hooks. You can see photos here: https://www.reddit.com/r/LegendsUltimate/comments/w8zj1f/aimtrak_lightgun_running_perfectly_on_alu_11/?utm_medium=android_app&utm_source=share
The bar itself looks really neat out of its case and the ability to configure the intensity is almost like getting two products for the price of one. I noticed it was easier to calibrate using this bar and the angle it provides for the Aimtraks is very wide. I wholeheartedly recommend this bar.
Extreme ir bar
01/20/2020
I like this IR bar more than the one that came with my ultimarc light guns. I would have easily given this a 5 star if it had a case. Also, I wish they would have used a black PCB instead of white since it has to case. Lastly, adding two pins for power in addition to the two mini usb connectors would be nice.
A-W-E-S-O-M-E
01/13/2020
Holy cow! This thing is A-M-A-Z-I-N-G! I can play my light gun games from all the way across the room sitting on my couch! I can't believe it!!! What a difference it makes for my light guns! UNREAL! Perfect addition for my arcade with 75" screen! Don't think about it, just buy it!