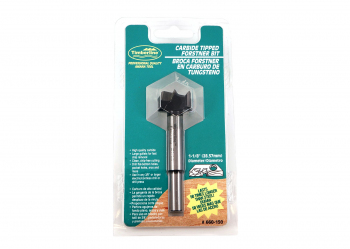 Timberline 1-1/8" Carbide Tipped Forstner Bit
| Read all reviews
SKU
TL-660-150
Price $24.95
Timberline 1-1/8" Carbide Tipped Forstner Bit
1-1/8" Forstner Drill Bit for drilling arcade push button and joystick holes. Forstner bits will produce a cleaner hole then spade bits or hole saws and with the carbide tips they will cleanly cut not only soft and hard woods but can get through melamine and other laminated plywoods.
Manufacturer: Timberline
Manufacturer #: 660-150

Timberline 1-1/8" Carbide Tipped Forstner Bit Reviews
Read all reviews
Featured positive reviews:
Great bit.
12/29/2018
I have a spade bit that did the job for wires in 2'x4's but for mdf or melamine I bought this. It did not disapoint. Clean, quick precise cuts. I used a guid hole and started both sides before I drilled all the way through to ensure there was no sloppy tear out on the back. Worked great.
Worked perfectly.
01/28/2019
Did exactly what I needed to 1/2" and 3/4" MDF.