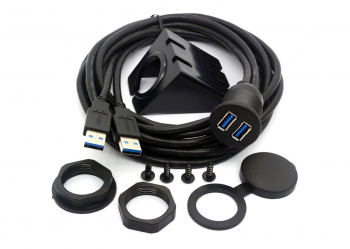 Cabinet Mount Dual USB 3.0 Port
| Read all reviews
SKU
usb-dual-port
Price $11.95
Cabinet Mount Dual USB 3.0 Port
You can easily add 2 external USB ports to your MAME machine with this dual-port USB 3.0 panel mount extender. Perfect for adding hand-held controllers to your machine. The cables are 1 meter long and it uses the same 1-1/8" hole that arcade pushbuttons use so you probably already have a drill bit for it!

It comes with everything you see here, so you can install the optional cover if you want to hide the ports or protect them from dust, or you can use the included mount to screw it to another location, such as hidden inside a coin door or on the top of the cabinet if you don't want to drill a hole to install it. This supports USB 3.0 but will still work fine (just at the lower speeds) when used on USB 2.0 or 1.0 ports.
Cabinet Mount Dual USB 3.0 Port Reviews
Read all reviews
Featured positive reviews:
Sstealthy way to extend USB ports
05/30/2019
No matter what your reason for using USB ports in your cabinet, these are really nice for getting access to them really easily without opening doors or going around the back or leaving obvious holes that detract from the look of the arcade cabinet. I highly recommend this, especially if your cabinet is black. I use them so any of the 5 or so different types of console controllers can be easily plugged in when someone doesn't want to use the joystick and buttons in the control panel. Very sturdy housing with thick cable, I expect it will last for a long time.
Cabinet Mount Dual USB3.0 ports
11/15/2021
This USB port assembly is the ideal way to route out USB ports from my Raspberry Pi based arcade cabinet. Now this is a bit snug compared to arcade buttons mounted to the same size hole. You may need to make a hole slightly bigger than you would for an arcade button. I use these to connect wired controllers when a full arcade control panel just doesn't make sense, like when playing NES or SNES games.
Mounting in 3/4" material
12/27/2019
Will not quite fit in 3/4'' material. Recess the back with a 2" forstner bit and your good to go. The dust cap is a nice feature as well.