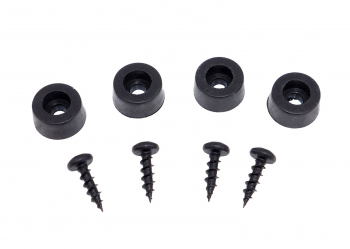 Bartop Cabinet Feet With Screws - 4 Pack
| Read all reviews
SKU
Bartop-Feet-4
Price $1.95
Bartop Cabinet Feet With Screws - 4 Pack
Non-skid feet for the bottom of bartop arcade cabinets so they don't slide around while you're trying to play. 1/2" feet may seem small at first, but this allows you to use them on cabinets made from 1/2" wood or larger without the feet sticking out.
Includes 4 non-skid black feet
Includes 4 #6 1/2" black screws to mount the feet into wood
Bartop Cabinet Feet With Screws - 4 Pack Reviews
Read all reviews
Featured positive reviews:
Holes are a little too large
08/31/2020
These are OK, but you have to be careful. The screw holes are just a little to big which allows the screw heads to pull through too easily. If you are careful about how you tighten the screws and don't pull on the feet, they work fine.
Not very tall
04/07/2020
Sure they are 1/2" but barely 1/4" tall. Think that would have been helpful in the description.


Good Size Feet
11/23/2020
Good size cabinet feet, just tall enough without making cabinet top heavy. Comes with screws too.