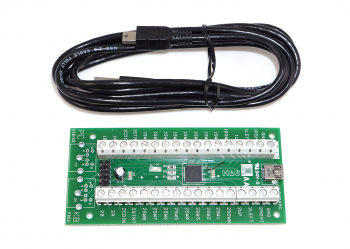 Ultimarc A-PAC Controller with USB Cable
| Read all reviews
SKU
APAC
Starting Price $42.95
More Details
Reviews
Related Items:
Ultimarc A-PAC Controller with USB Cable
Working on a Racing MAME machine with a steering wheel and gas pedal? The A-PAC is the interface you to need as it supports up to 4 analog (potentiometer) inputs, as well as pushbuttons. Or you can still use those same inputs for regular joysticks!
The A-PAC is an analog/digital interface which emulates two gamepads. It can be used for buttons only, or various combinations of buttons and analog potentiometer (pot) devices. It can be used in any of these configurations:
32 Buttons
One analog axis and 30 buttons
Two analog axis and 28 buttons
Three analog axis and 26 buttons
Four analog axis and 24 buttons
Emulates not one but TWO gamepad devices. Most gaming apps will work"out of the box" since they will see one gamepad for each player.
Shift function. The "Start1" button input on each side behaves as a regular button but also when pressed changes the buttons in use to numbers13-28.
Easy connection via screw connectors. Inputs are labelled for convenience but are universal.
Can use 1,2,3 or 4 analog axis, or the directions can be digital,using buttons.
All button inputs (including any direction inputs used with buttons)are fully debounced with individual state counters for maximum key roll-over performance.
Logical board layout with one gamepad device on each side of the board.
One-to-one-one mapping means that connecting pots or buttons for the player 1 and 2 directions is easy. You can make a direct swap from direction switches to direction pots.
Super-fast Full-Speed USB technology..
12-Bit analog to digital conversion.
Can use any pot values and different value pots can be used on eachside of the board.
Precision analog conversion is immune to variations in pot resistance, owing to the ratio comparison method used, so no calibration of the center position will normally be needed for analog joysticks.
Uses interrupt triggering rather than polling for maximum accuracy and speed.
As well as using analog joysticks, any other pot devices can be useds uch as pedals, steering wheels etc.
As many boards as required can be added for more devices. Perfect for large flight-sim panels.
Ideal for flight-sim panels which require a large number of control-type buttons.
Start1 button is a shift button which enables another set of shifted buttons. This gives a maximum of 62 logical buttons.
No drivers needed. Windows recognises two gamepads, Device #1 and#2.
The A-Pac is made by Ultimarc, all support links below open to their website:
Ultimarc A-PAC Controller with USB Cable Reviews
Read all reviews
Featured positive reviews:
Easy to use.
02/06/2019
The device worked very well. It was easy to wire and connect buttons, turn potentiometers, and slide potentiometers. Device was recognized as two separate controllers.
Great site for all your parts needs
06/01/2022
Great service from this site, always!
Ultimarc A-PAC Controller with USB Cable Related Items: