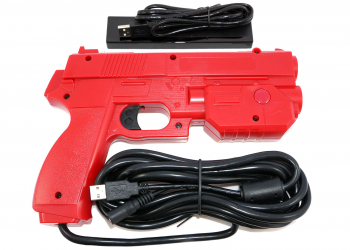 Ultimarc AimTrak Arcade Light Gun With Recoil - Red
| Read all reviews
SKU
AimTrak-Recoil-Red
Price $118.99
More Details
Reviews
Related Items:
Ultimarc AimTrak Arcade Light Gun With Recoil - Red
9/17/2021 Stock Update: Ultimarc expects a delivery soon. If it arrives on time we should have these back in stock before the end of September.

USB Arcade Light Gun with RECOIL and line-of-sight aiming.
36v 3a power supply required for recoil feature sold separately
Red gun with sensor bar and instruction booklet
Emulates a USB mouse and game controller, with no drivers required.
Compatible with MS Windows, and Playstation 2 and 3
Works with all monitors including CRT, LCD, Plasma
Accurate aim (after calibration) for games which do not have on-screen cross-hairs.
Up to 4 guns can be used together
Recoil Feature:
The recoil feature needs a 36 volt power supply from 2-3 amps or 24v from 3-4 amps.
Do NOT use more amps than listed, as that will overload the recoil solenoid
We have a 36v 3a power supply available here
We have a power splitter to run multiple guns from one power supply.
When sharing a power supply the force of the recoil will be reduced if multiple guns fire at the same time
You can use 12v or 24v and 1a or 2a but the recoil power will be less
Box Contains:
Complete gun with 2 buttons.
4 meter USB/Power combo cable
LED sensor bar for mounting on top of monitor.
Instruction booklet
Docs & Tips:
Ultimarc AimTrak Arcade Light Gun With Recoil - Red Reviews
Read all reviews
Featured positive reviews:
Lightgun perfection
01/29/2020
The Aimtrack is easy to setup, performs great and works great for my arcade cabinet. 10 out of 10.
Ultimarc AimTrak Arcade Light Gun With Recoil - Red Related Items: