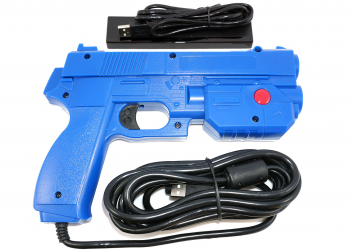 Ultimarc AimTrak Arcade Light Gun With Recoil - Blue
SKU
AimTrak-Recoil-Blue
Price $120.00
This item is currently out of stock. If you would like us to email you when it is back in stock, please enter your email below:
More Details
Reviews
Related Items:
Ultimarc AimTrak Arcade Light Gun With Recoil - Blue
1/11/2022 Stock Update: Ultimarc expects to have more the middle of February, so if there are no delays we should be restocked the week of Feb 20th.
*International Orders* - We are only shipping these to United States and Canada at this time.
USB Arcade Light Gun with RECOIL and line-of-sight aiming.
36v 3a power supply required for recoil feature sold separately
Blue gun with sensor bar and instruction booklet
Emulates a USB mouse and game controller, with no drivers required.
Compatible with MS Windows, and Playstation 2
Works with all monitors including CRT, LCD, Plasma
Accurate aim (after calibration) for games which do not have on-screen cross-hairs.
Up to 4 guns can be used together
Important Information:
This is *not* Plug-and-Play, some setup and calibration is required. See the first link in the "Docs & Tips" section below for the instructions.
Additional work is needed to get a light gun working on Raspberry Pi or other Linux versions. See all the "Linux/Pi" links in the "Docs & Tips" section below before ordering.
Recoil Feature:
The recoil feature needs a 36 volt power supply from 2-3 amps or 24v from 3-4 amps.
Do NOT use more amps than listed, as that will overload the recoil solenoid
We have a 36v 3a power supply available here
Per Ultimarc, a power splitter is not recommended, each gun should have their own power supply. We no longer suggest a splitter as it can kill recoil solenoids. Dead recoils powered from a splitter will not be covered under warranty.
You can use 12v or 24v and 1a or 2a but the recoil power will be less
Box Contains:
Complete gun with 2 buttons.
4 meter USB/Power combo cable
LED sensor bar for mounting on top of monitor.
Instruction booklet
Docs & Tips:
Ultimarc AimTrak Arcade Light Gun With Recoil - Blue Reviews
No reviews for this product.
Ultimarc AimTrak Arcade Light Gun With Recoil - Blue Related Items: