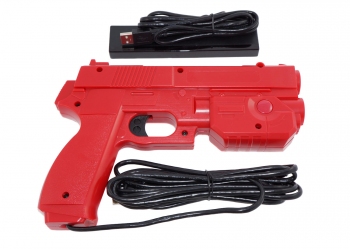 Ultimarc AimTrak Arcade Light Gun - Red
| Read all reviews
SKU
AimTrak-Red
Price $99.00
More Details
Reviews
Related Items:
Ultimarc AimTrak Arcade Light Gun - Red
2/23/2023 Stock Update: We received our delivery and these are back in stock.
*International Orders* - We are only shipping these to United States and Canada at this time.
*Price Increase* - Due to a $9 cost increase we have raised the price by $4 and will cover the remainder.
USB Arcade Light Gun with line-of-sight aiming.
Red gun with sensor bar and instruction booklet
Emulates a USB mouse and game controller, with no drivers required.
Compatible with MS Windows, and Playstation 2
Works with all monitors including CRT, LCD, Plasma
Accurate aim (after calibration) for games which do not have on-screen cross-hairs.
Up to 4 guns can be used together
Important Information:
This is *not* Plug-and-Play, some setup and calibration is required. See the first link in the "Docs & Tips" section below for the instructions.
Additional work is needed to get a light gun working on Raspberry Pi or other Linux versions. See all the "Linux/Pi" links in the "Docs & Tips" section below before ordering.
Box Contains:
Complete gun with 2 buttons.
4 meter USB cable
LED sensor bar for mounting on top of monitor.
Instruction booklet
Docs & Tips:
Ultimarc AimTrak Arcade Light Gun - Red Reviews
Read all reviews
Featured positive reviews:
Bang Bang
10/12/2022
I purchased the non-recoil Aimtrak gun for my AtGames Legends Ultimate Arcade machine. After some minor tweaking to the software, the gun has performed wonderfully. The packaging was very secure and it came as promised. Now I want a second one in black for my machine. I recommend their service and their product highly!! Thank you!!
Works well
04/13/2020
The gun and usb connector arrived fast within a few days. The items work as advertised. I would recommend Tmolding to anyone looking for arcade parts.
Ultimarc AimTrak Arcade Light Gun - Red Related Items: