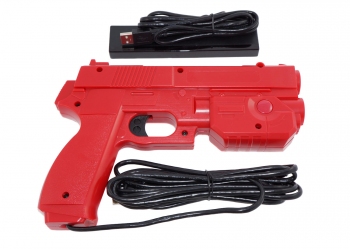 Ultimarc AimTrak Arcade Light Gun - Red
| Read all reviews
SKU
AimTrak-Red
Price $92.99
More Details
Reviews
Related Items:
Ultimarc AimTrak Arcade Light Gun - Red
9/17/2021 Stock Update: Ultimarc expects a delivery soon. If it arrives on time we should have these back in stock before the end of September.

USB Arcade Light Gun with line-of-sight aiming.
Red gun with sensor bar and instruction booklet
Emulates a USB mouse and game controller, with no drivers required.
Compatible with MS Windows, and Playstation 2 and 3
Works with all monitors including CRT, LCD, Plasma
Accurate aim (after calibration) for games which do not have on-screen cross-hairs.
Up to 4 guns can be used together
Box Contains:
Complete gun with 2 buttons.
4 meter USB cable
LED sensor bar for mounting on top of monitor.
Instruction booklet
Docs & Tips:
Ultimarc AimTrak Arcade Light Gun - Red Reviews
Read all reviews
Featured positive reviews:
Works well
04/13/2020
The gun and usb connector arrived fast within a few days. The items work as advertised. I would recommend Tmolding to anyone looking for arcade parts.
Ultimarc AimTrak Arcade Light Gun - Red Related Items: