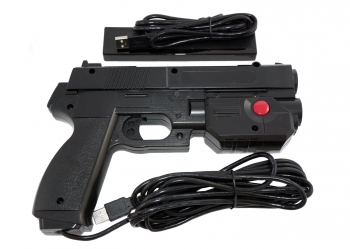 Ultimarc AimTrak Arcade Light Gun - Black
| Read all reviews
SKU
AimTrak-Black
Price $99.00
This item is currently out of stock. If you would like us to email you when it is back in stock, please enter your email below:
More Details
Reviews
Related Items:
Ultimarc AimTrak Arcade Light Gun - Black
1/11/2022 Stock Update: Ultimarc expects to have more the middle of February, so if there are no delays we should be restocked the week of Feb 20th.
*International Orders* - We are only shipping these to United States and Canada at this time.
*Price Increase* - Due to a $9 cost increase we have raised the price by $4 and will cover the remainder.
USB Arcade Light Gun with line-of-sight aiming.
Black gun with sensor bar and instruction booklet
Emulates a USB mouse and game controller, with no drivers required.
Compatible with MS Windows, and Playstation 2
Works with all monitors including CRT, LCD, Plasma
Accurate aim (after calibration) for games which do not have on-screen cross-hairs.
Up to 4 guns can be used together
Important Information:
This is *not* Plug-and-Play, some setup and calibration is required. See the first link in the "Docs & Tips" section below for the instructions.
Additional work is needed to get a light gun working on Raspberry Pi or other Linux versions. See all the "Linux/Pi" links in the "Docs & Tips" section below before ordering.
Box Contains:
Complete gun with 2 buttons.
4 meter USB cable
LED sensor bar for mounting on top of monitor.
Instruction booklet
Docs & Tips:
Ultimarc AimTrak Arcade Light Gun - Black Reviews
Read all reviews
Featured positive reviews:
Aimtrak light gun fun
03/03/2022
I bought this to go with my atgames Legends Ultimate arcade cabinet so I could play the shooting games like T2 and Duck Hunt properly and I am not disappointed. Setup took a little while because the firmware wasn't saving the button config it took saving it twice to actually save.

Calibration also took a little while mainly because I had to find the best placement of the sensor bar. I also found calibrating it on a pc first helped alot. I had it working on the pc within 5 minutes.

Gameplay is awesome with this gun. Since I chose to get it without recoil it is light weight enough to play for hours and the kids have no problem holding it up to play.

The gun was shipped quickly but delayed by the weather so it took 7 days instead of 3 days.

Overall a great purchase and tons of fun!
Decent light gun
05/31/2022
I wasn't expecting to have to buy a powered USB hub just to get the senor bar to work, but once I got that settled, it does work well. Even has the benefit of not needing to be used in windowed mode like the Sinden requires.

Just be sure to use the light gun mod if you want to play House of The Dead Remake. It'll fix the weird cursor locking issue that otherwise makes the game unplayable with a light gun.

I would like the calibration software to not crash every time I attempted to use it however.
Nice buy
09/23/2022
Buy to use on a atgames legends ultimate, works great in a similar way to a wii mote. Setup with the sensor bar must be precise and repeated once in a while but once calibrated, I was surprised how accurate it can be. Maybe not for a light gun arcade purist but still great fun to have!
Ultimarc AimTrak Arcade Light Gun - Black Related Items: