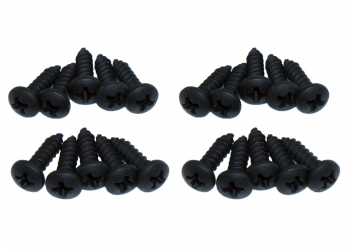 20 Black 1/2" Screws
Bag of 20 black #6 1/2" screws for mounting speakers, speaker grills, amplifiers, marquee trim, or other items to your arcade cabinet. Black so they are not easily seen when used for external items such as speaker grills.
20 Black 1/2" Screws Reviews
Read all reviews
Featured positive reviews:
Just the right size
05/30/2019
These are just the right size and have the right look for mounting various things in your cabinet (in my case, speakers and misc. hardware). They blend in the with the exterior and hold tight without being too long. Nothing I saw at the big box stores were exactly like these - I'm glad I found this site and that they're back in the arcade cabinet supplies business again and not just T molding.
Perfect!
03/15/2021
High quality screws, well packaged and arrived on time. Exactly what I needed for my arcade build!