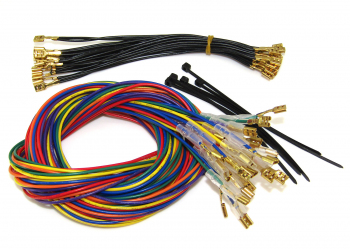 2 Player Wiring Kit (.187in/4.8mm)
| Read all reviews
SKU
Wire-Kit-2P
Starting Price $13.95
More Details
Reviews
Related Items:
2 Player Wiring Kit (.187in/4.8mm)
2 player arcade wiring kit for I-PAC, A-PAC or other MAME machine with .187in/4.8mm connectors. Contains enough wire to hook up 12 switches for each player (4 on the joystick, 6 player buttons, 1 start, 1 coin). Use bare wire to connect to the I-PAC.
Kit Contents:
4 wires each of 6 different colors (Red/Blue/Purple/Orange/Green/Yellow) for easier hookup of 6 player buttons
Now with twice as much wire! Each wire is now 3-1/4ft long (over 72ft of wire included)
30 connector black daisy-chain wire for the ground connections
All wires are pre-crimped with .187in/4.8mm connectors! The switch wires have an insulated crimp on one end and a tinned wire on the other end to easily connect to an I-PAC or other interface board
6 4" black zip ties for a clean install
2 Player Wiring Kit (.187in/4.8mm) Reviews
Read all reviews
Featured positive reviews:
Should work fine for most setups
05/07/2022
Will work fine with most 2player setups. Just a few notes though.
-I counted 24 inputs (joysticks have 4 inputs.)
-The ground daisy chain wire has crimps on both ends. You will have to remove one on the very end to insert into the ipac.
-The ground cable barely reached all the inputs i wanted. My control panel is 27in×12in. It SHOULD be fine for most setups, but keep that in mind.
Amazing kit!
09/13/2019
I bought this maybe a few days before they released the improve version and I managed getting the improved version anyway and I gotta say god bless! It would've been such a hassle cramping every spade connector the each wire so this is the way to go if you wanna save yourself a headache!
Thanks again TMolding!
Exactly what I needed
10/01/2019
This kit was exactly what I needed (and more) for setting up my own custom control panel. I ended up cutting the wires down since they were very long, and tinning the leads myself - but all of the crimps are extremely solid and the grounds are perfect.
2 Player Wiring Kit (.187in/4.8mm) Related Items: