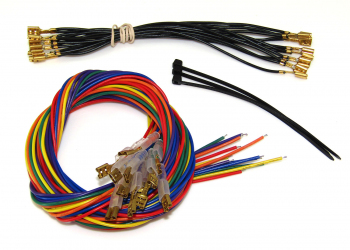 1 Player Wiring Kit (.187in/4.8mm)
| Read all reviews
SKU
Wire-Kit-1P
Price $7.95
More Details
Reviews
Related Items:
1 Player Wiring Kit (.187in/4.8mm)
1 player arcade wiring kit for I-PAC, A-PAC or other MAME machine with .187in/4.8mm connectors. Contains enough wire to hook up 12 switches for a single player (4 on the joystick, 6 player buttons, 1 start, 1 coin). Use bare wire to connect to the I-PAC.
Kit Contents:
2 wires each of 6 different colors (Red/Blue/Purple/Orange/Green/Yellow) for easier hookup of 6 player buttons
Now with twice as much wire! Each wire is now 3-1/4ft long (over 36ft of wire included)
15 connector black daisy-chain wire for the ground connections
All wires are pre-crimped with .187in/4.8mm spade connectors! The switch wires have an insulated crimp on one end and a tinned wire on the other end to easily connect to an I-PAC or other interface board
3 4" black zip ties for a clean install
1 Player Wiring Kit (.187in/4.8mm) Reviews
Read all reviews
Featured positive reviews:
Great partner
07/21/2020
Excellent, thoughtful, rapid service; they even sent me a note saying they'd changed my order to save me some money if that was OK. Great product, as described.
Perfect interface
11/02/2021
Don't forget to save money get the ipac2-with-usb-cable
Ultimarc I-PAC 2 as its inputs match keyboard and allow two buttons to equal another button choice.
Works Great!
02/02/2021
Worked as expected. Great build quality.
1 Player Wiring Kit (.187in/4.8mm) Related Items: